I was recently asked to do a "sketchnote" for a panel discussion in my town, Burlington Vermont.
For those not up on the latest buzzwords, sketchnoting is basically doodling while an event is going and letting other people see your doodles. It has something to do with visual thinking. Or doodling. Either way it's pretty fun.

Since I'm a fairly miserable artist without lots of revisions and even worse at large-size stuff, I set up using my iPad, an iPad stylus, and the Paper App. No not the Facebook version, this one.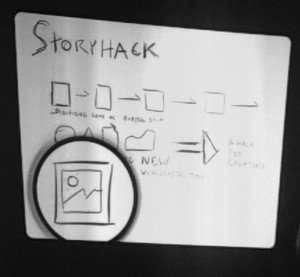 Below are my notes from the session. Please understand these are simply my notes and understandings from the event. It isn't a transcription. Some of these ideas and connections only happened in my head and didn't come out of anyone's mouth.
If you want a more reporterly version of events I recommend the excellent work of Cathy Resmer which can be found at SevenDays' TechJam blog.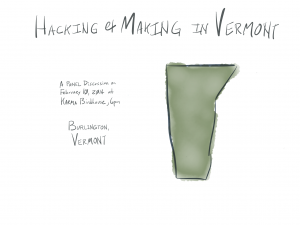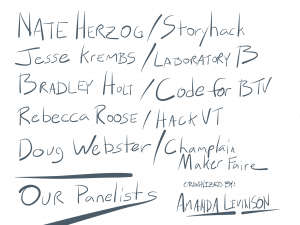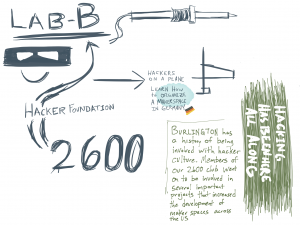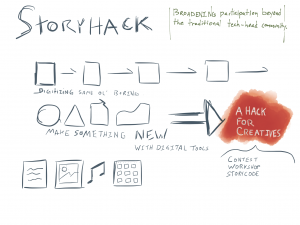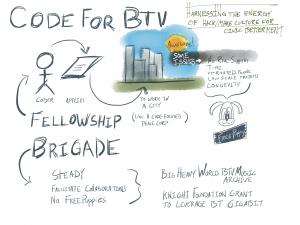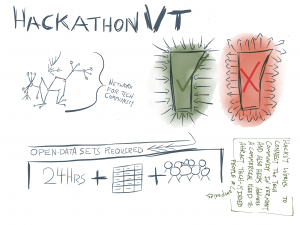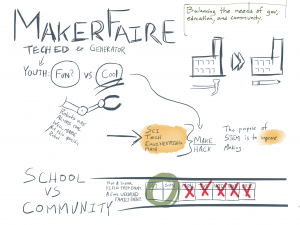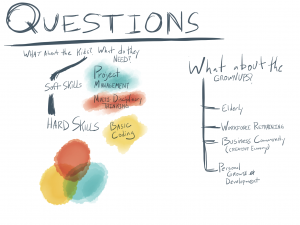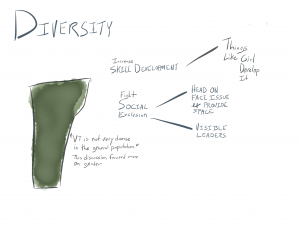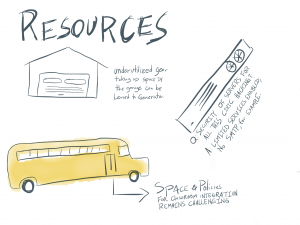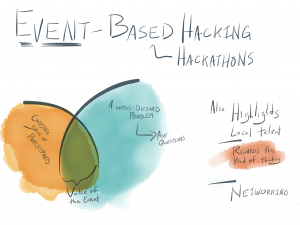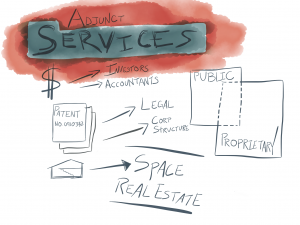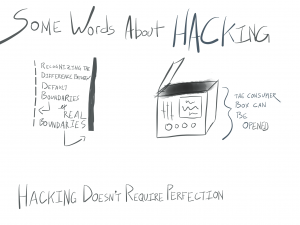 Here are links for these hackathon/makerspace resources: Laboratory B, Generator, StoryHackVT, Champlain MakerFaire, CodeForBTV, GirlDevelopIt, Coder Dojo, Emergent Media Center, VT TechJam, Makers in VT, VT Coders Connection, BTV Digirati, 7 Days Tech Newsletter, Meetup, Twitter: #BTV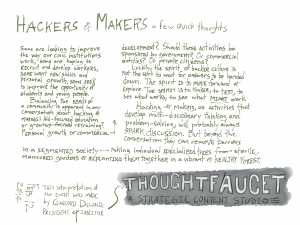 Hackers and Makers: some quick thoughts
Some are looking to improve the way our civic institutions work, some are hoping to recruit and develop workers, some want new skills and personal growth, some seek to improve the opportunity of students and young people.
Balancing the needs of a community is apparent in any conversation about hacking & making: kid-focused education or grownup-focused retraining? Personal growth or commercial development? Should these activities be sponsored by government? Or commercial entities? Or private citizens?
Luckily, the spirit of hacker culture is not the sort to wait for answers to be handed down. The spirit is to move forward & explore. The spirit is to tinker, to test, to see what works, to see what might work.
Hacking & making, as activities that develop multi-disciplinary thinking and problem-solving, will probably always spark discussion. But beyond the conversation they can remove barriers in a segmented society–taking individual specialized trees from sterile, manicured gardens & replanting them together in a vibrant & healthy forest.
–This interpretation of the event was made by Gahlord Dewald, President/Janitor of Thoughtfaucet, Feb 12, 2014